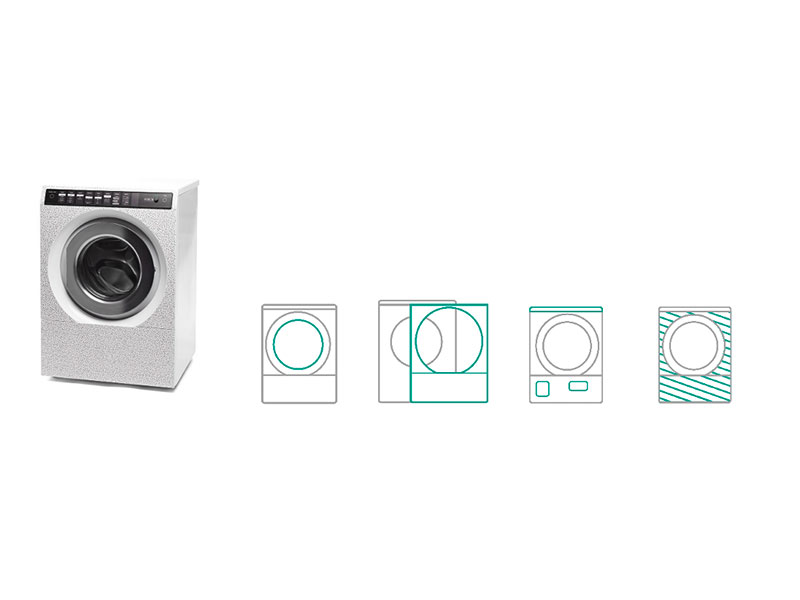 Life cycle of a standard washing machine : less than 9 years
This same measure 20 years ago : more than 12 years
Key figure :
27 million machine in France alone (Kantar TNS)
2.7 million washing machines sold in France per year ( source GIFAM/Gfk)
97% of French Household own a washing machine ( source Kantar TNS)
Of which only 8% are washer/dryers.
An average use of 220 cycles per annum – that's 4 wash loads per week.
The washing machine suffers from :
A basic and well known technology – with little to no innovation
During use a mix of plumbing and electricity
A diving market price
What does this mean ?
Over the past 10 years engineers have worked to optimise the washing performances of machines. As an example, a standard modern washing amchine uses 45% less electricity than in 2008.
A similar line of work is done on water consumption with some experts claiming a 50% water saving on annual laundry cleaning.
This being said – there remains one problem – the machine itsellf
Did you know that on average in France each person generates 20 krs of e-wast per year?
Washing machines are part of this waste. Whether due to programme obsolescence, poor quality level to bring prices down – our white good investments are now short term. And through this, there is an increase in the quantity of waste generated. nt de grande quantité de déchets.
Today, a solution appears to be made available to the générale public:
L'increvable
https://www.lincrevable.com/fr/reserver/
Durable
Repairable
Adaptable
Unique
The machine is conceived in the simplest possible manner – there are no welded or glued pieces to ensure that they can be repaired. The product's promise : 20 years of duty .
Aside from usage performance that remain to be confirmed ( the product is still only a prototype) the commitment to 20 years of use divides by at least two the amount of waste generated !
Need a repair ?
The front is easily removable to facilitate maintenance.
Core componentry is easily accessible and changeable.
Your family is growing ?
You can adapt the performance of your machine to make it live up to life new challenges.
Why do we like this product ?
At KAPA we know all about doing laundry. Its an everyday chore that we try to facilitate – because going down to the river to scrubs your long john's is so 1900.
This machine, when used to its full potential, is a virtuous use of ressources both in itself and in the upkeep of your laundry. A reduced amount of water and electricity to optimise the cleanliness of your clothes.
We also like the fact that this product is created with its full life cycle in mind. Because that the way we approach the laundry market at KAPA. Active on the market for more than 15 years , we develop products that aim to offer the right dosage ( because excess use of products is also wasteful) and reduced the impact on the environment – and more specifically in the water.
Whether our products are eco-labelled or not, because at KAPA we believe in both, they are created to maximise the efficiency of each washing cycle. A single wash ( rather than separated according to colour) with the help of our colour catcher that are made from a 100% natural material. A single dose capsule that ensures that just the right amount is being used for your wash, that is easily transportable and ensures that stains are removed.
Because this project, like our ambitions, is to offer and distribute to the greatest number a product that is practical, efficient and engineered to be respectful of ressources.
An while we are at it :
We are not the engineers working hard at this design, but why not use it for dishwashers?